Aug.9th.2019
---
Nowadays, it's getting more and more difficult to tell the quality of the tungsten carbide products unless being tested. Imported tungsten carbide powder, virgin tungsten carbide powder, recycled tungsten carbide powder, and even TC powders mixed with steel powders, etc.
Good quality raw material becomes mixed up with the bad ones. You are "lucky" to find it in early stage if you buy recycled or fake tungsten carbide parts. Some customers get really "hurt" by using those parts made from unqualified raw material due to the waste cost caused by the unnecessary following machining and assembly processes or even the damage of the whole tool/equipment, especially when the part being used is a critical part.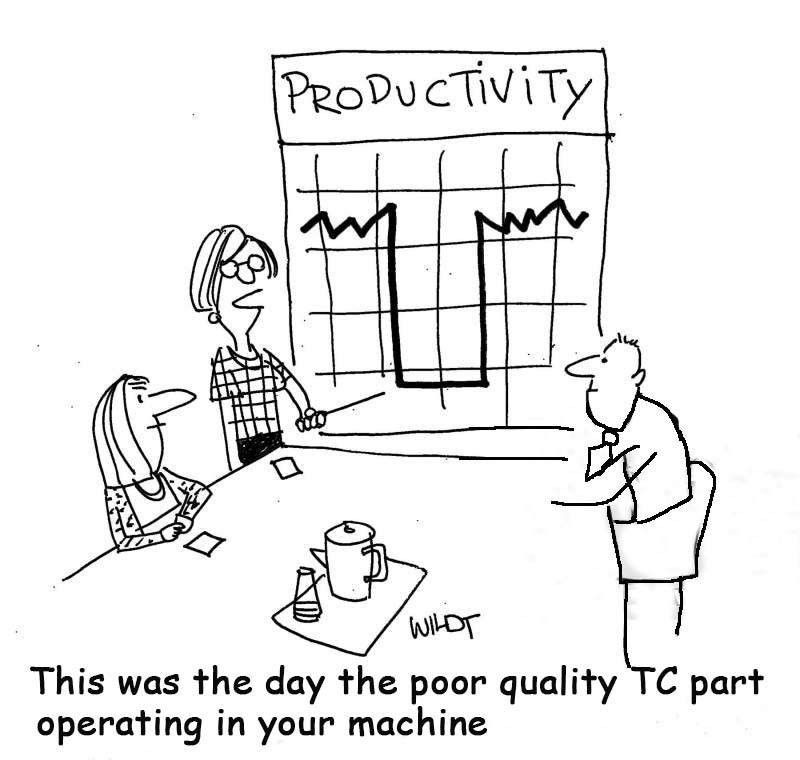 Some customers really get"hurt" by using those parts made from unqualified raw material due to the wasted following machining cost or even the damage of the whole tool/equipment especially when the used parts is a critical part.
How to prevent yourself from getting "hurt"? Miller will give you some tips about how to identify virgin and recycled tungsten carbide made parts.
Density: the density of recycled tungsten carbide parts must be lower than that of the virgin raw material. For example: Grade YG15 with density of 13.90-14.20g/cm3. We can measure the dimensions of purchased tungsten carbide part, and then calculate the volume according to the dimensions. In the same time, we can weigh the part by KG and use the formula: density = weight / volume (Note that KG is converted to gram and the volume unit is CM3.) If the density is lower than the nominal density of YG15, we can get the conclusion that the bought tungsten part is made from recycled raw material.                                                                                                                                                                                                                                                                          

Surface checking: the recycled tungsten carbide blank is not flat and very rough. The surface finishing of part made from virgin tungsten material can reach to mirror finishing after machining, while the recycled ones cannot. There will be black spots, voids or sand holes.           
EDM: When EDM performed slowly on the recycled raw material made part, the wire would easily get broken , while the virgin material made parts are not.
Raw material powders can only be bought either from a licensed factory or its distributor. Miller Carbide has always insisted on using the highest quality raw materials powders, with the purity up to 99.95% and no form of any recycled materials to manufacturer tungsten carbide products.  
All Miller tungsten carbide parts are tested according to ISO/National quality standards/Customer specification before delivery to ensure that each and every part is qualified.