Description
Titanium carbide has proved to be a cost-effective material for the manufacture of guide roller for wire rod mills, having low density, excellent anti-oxidation and wear resistance, coupled with relatively good resistance to thermal shock. TiC hard-metals have a relatively simple metallographic structure, but for quality control, the grain size and porosity must be controlled. In particular,porosity is the main quality problem since even vacuum sintering cannot completely overcome the problem of oxygen pick-up. However, the hot isostatic pressure sintering process (HIP), introduced in the late 1980s, significantly improved the final quality of TiCs, by solving the porosity problems.
Miller MT10 is specially designed for the demanding operations of today's high speed roll mills, suitable for high speed up to 110m/s, with rotation of approx. 35,000 rpm and temperature 800-1000 degree. All Miller MT10 guide roller are produced by SINTER HIP (Hot Isostatic Press) technology to assure the best sintering quality.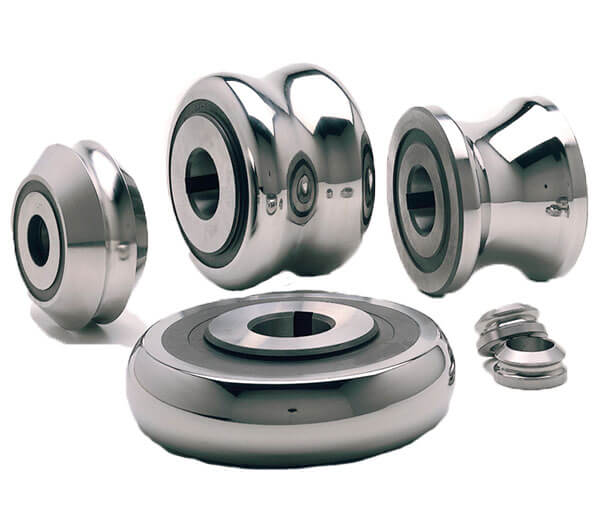 Technical Data
Material
Miller MT10
T.C
ToolSTEEL
Binder
Alloy Steel
Co-Ni
Fe
Hard Phase
TiC
WC
Fe 3 C
Manufacturing Process
Powder Metallurgy
Powder Metallurgy
Casting
Hardness (HRC)
Tempered
68-70
68-78
55-62
Hardness (HRC)
Annealed
45-48
68-78
20-30
Density(g/cm 3 )
6.45-6.60
14.0-15.0
7.8-8.5
Bend Strength(N/mm 2 )
1650-1850
1950-2300
580-1000
Compressive Strength(N/mm 2 )
3500-3800
3200-4300
2000-2700
Advantages of MT10 guide roller
 Lighter than Tungsten carbide roller by 55%, Lighter than tool steel than 20%, so the guide roller accelerates from standstill to 35,000 rpm, without damaging the bearing.
 Very low coefficient of friction and self-lubricating properties, so the working portion of the guide roller is less worn, and the production can be greatly increased
 The coefficient of thermal expansion is close to that of the bearing steel. When the quenching is hot, the bearing will not get stuck. The thermal expansion coefficients of titanium carbide cemented carbide and tungsten carbide hard alloy are very different from those of steel. Therefore, the steel bonded carbide guide roller is more advantageous for bearing anti-seize ability than the two cemented carbide guide rolls.
 The micro structure is titanium carbide and high chromium tool steel, which has good thermal fatigue resistance.
 Anti-oxidation, less magnetic, non-stick steel.
 Annealing hardness is only HRC45-48, easy to process, after quenching, only a little fine grinding can be processed into finished products, the processing cost is low, so the price is also low. This is also one of the main reasons why titanium carbide guide rolls are superior to tungsten carbide guide rollers.
 Hardness HRC62-67, good wear resistance. The service life is 8-10 times that of high speed steel.
 Absolutely dense, the pores are almost zero, so it will not break when used and can be reused.
 Compared with similar foreign products, the price of Miller MT10 is lower, which greatly saves the production cost of customers.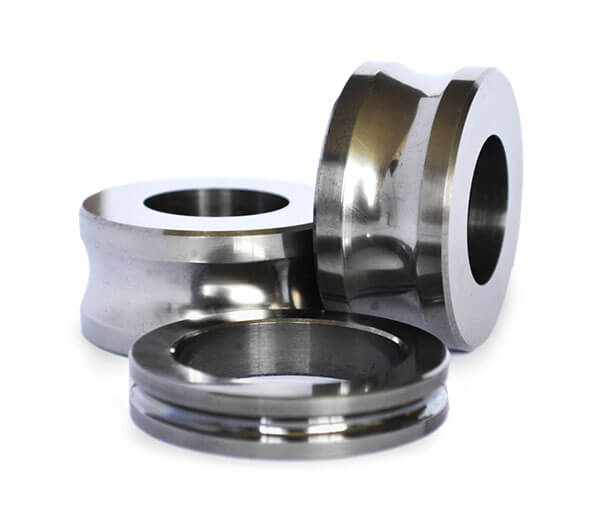 Specifications
Name
Titanium Carbide Guide Rollers
Other Names
High-speed finishing guide; Roller Guide Wheel; Titanium Carbide Roller; Guide Roller
Material
Titanium carbide, TiC, Alloy-TiC,
Miller Grade
MT10
Composition
Titanium carbide – 35%-45%, Binder – Mo+Ni+Al+Cr+Fe: 55%-65%
Density
6.45-6.6 g/cm3
Hardness
Tempered-HRC62-70 Annealed-HRC45-48
Features,Advantages
Wear resistant, corrosion resistant, impact resistant, Heat resistant, self-lubricating, low friction, anti-oxidation
Brand
Miller™
Applications
(Hot Rolling)
Rod Mill Guide Roller, Forming/Reducing/Pinch Roll
Applications
Thanks to its low density, high wear, oxidation and temperature resistance, several different titanium based alloys are available for guide roller applications, but they can all be classified in two categories:

Iron or steel matrix carbides –MT10
These alloys are based on steel powder metallurgy with the titanium carbides dispersed in an iron-based matrix and sintered. These materials are magnetic and, in general, can be heat treated to reach hardness levels of around 62-67HRC. In the annealed state, hardness can be 45-50HRC for easy machining by lathe.
The Ni-Cr -W matrix carbides –MC15
In this case the product is a true hard-metal in which a hardness of approximately 86HRA (approx. 70HRC) is reached by sintering. They are non-magnetic, non-heat treatable and cannot be turned by lathe, but must be grounded by diamond wheels.
Call us today or email to [email protected] to discuss your requirements. Our personal service begins as soon as we answer the phone or email.